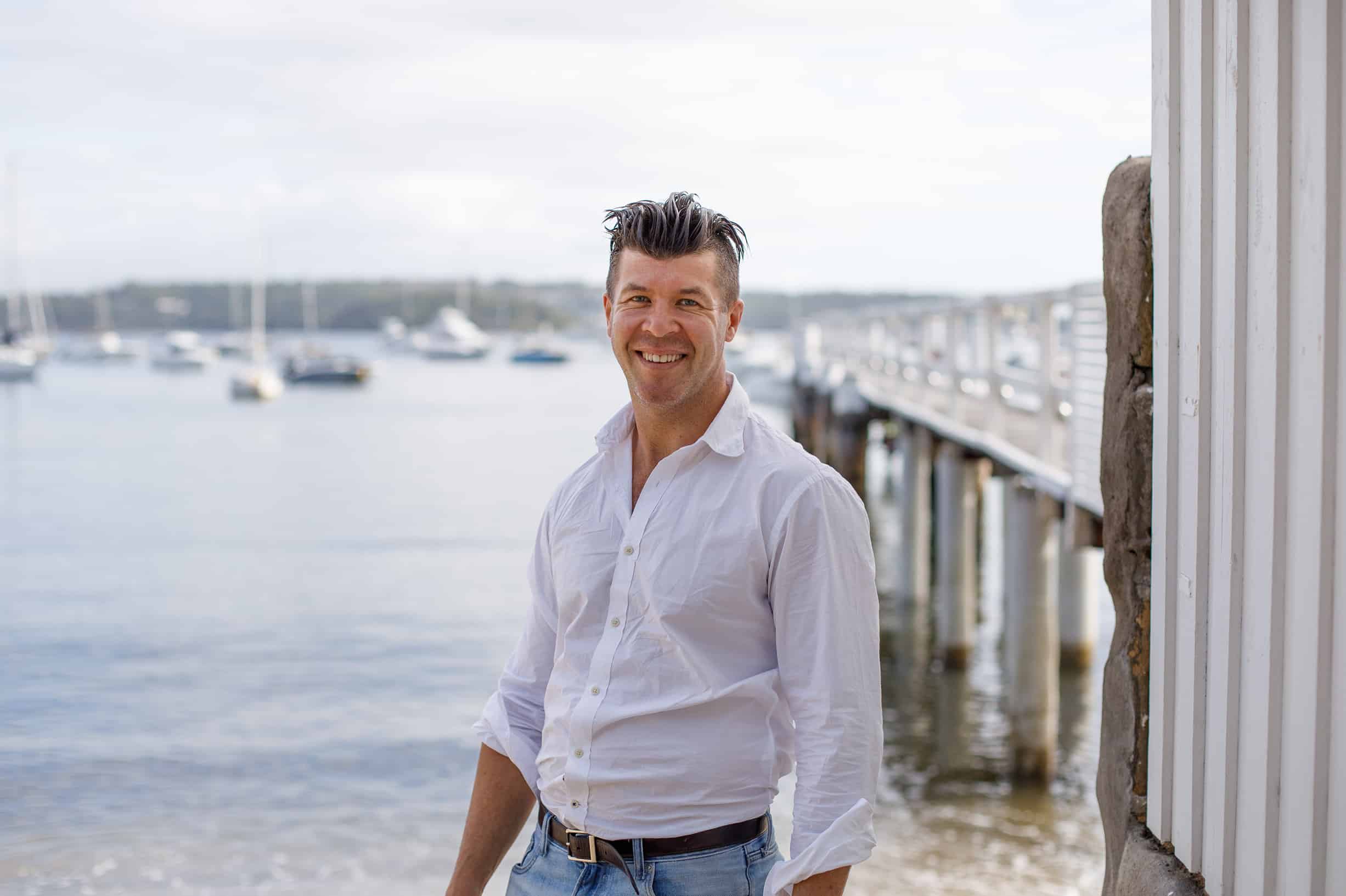 With the multi-million upgrade of Pallas House Sydney nearing completion in Double Bay, we're delighted to announce the arrival of yet another esteemed name in Australian hospitality circles, Damien Monley. Following two years as Co-owner and Executive Chef at London's acclaimed LIV Restaurant, the creative force behind the original Flat White Café in Woollahra and Grand Bistro in Bowral is returning to Sydney's Eastern Suburbs with an all-new bar and dining experience, Roxy's. We recently caught up with Damien to whet the appetite of what we can all expect.
Q—It's so good to see you back in Sydney, Damien. Can you tell us a little about your concept for Roxy's please?
A—Roxy's has been in planning for around 12 months. It's an all day/night venue that transcends from breakfast right through to late in the evening. Our concept for Roxy's is to be warm, welcoming and fun. It's quality without pretension and a real community-focus, a small bar vibe serving exciting yet approachable food and drinks. The idea originally came about when Charles (Fortis Director, Charles Mellick) contacted me when I was Executive Chef and Co-Owner of LIV Restaurant in Belgravia, London. I came home to Sydney in March 2020 and as soon as I saw the Double Bay site and the brief for the wider Pallas House development, I was sold. I've always had an affinity for small and intimate restaurant spaces, they're just so personal.
Q—How would you describe the underlying food and philosophy?
A—At Roxy's, I'll be cooking the way I like to eat at home. Having fun with flavours and utilising punchy spices, house-made pickles, with lots and lots of herbs. We'll have a really creative approach to making food taste delicious, playing around with Middle Eastern flavours, adding spice and personality to familiar local ingredients and putting twists on classics you know and love. That's important, because we want to be an everyday venue and we understand sometimes you want to eat and drink light, while other times you want to splurge. Therefore we'll balance comfort and clean with boozy and behaved. Foodwise, think fresh, healthy and vibrant salads, grains, house-made dips, sharp pickles and snacks you can eat with your hands. It's the food you can hit up 3 or 4 times per week and not feel guilty about, because it has a very healthy vibe.
Q—What kind of experience can guests expect when they visit?
A—My brief to Julia, our weapon-grade designer from Caswell Group, was to make Roxy's look and feel like a 'well stocked, rustic, country kitchen pantry.' I wanted it to have a sense of familiar and a sense of comfort – a place where you feel equally at home at seven in the morning as you would at midnight. Julia is a huge foodie also and having her on board for the whole process has been entertaining and inspiring. She really understands the design aspect, but also how restaurants operate. I've already been doing a lot of preserving and pickling and we'll use these elements to create pops of colour and texture thought the venue. It will also be very interactive space with bar seating, high and low seating, booths and communal areas. Small but very cosy.
Q—Who is the restaurant aimed at?
A—Absolutely the locals of Double Bay, but also the wider community. Having owned Flat White Café in Woollahra for nine years, there's a huge amount of high-grade established relationships and I'm so excited about having all of these wonderful customers as Roxy's customers. That said, as an everyday venue it really is aimed at everybody. Whether it's a milkshake with your kids on the way to school, an afternoon spritz with some snacks or an epic dinner and late night session, we'll have you covered.
Q—You touched upon the Pallas House site earlier. What makes it stand out for you?
A—Firstly, the design aspect is world-class. Also, the fact it's facing due North is very appealing; there's so much value in having sunshine in a site. I love small and intimate restaurants and when Fortis approached me to consider this site, I was quickly over the line. There's a genuine feeling that Double Bay is having a real renaissance and Fortis is really driving the shift and change.
Q—Taking a step back, how would you describe the fine dining landscape in Australia right now?
A—Fine dining will always have its place. But my thoughts are the restaurants that will continue to flourish and grow will be the 'ma and pa' operators. Owner-operator restaurants that understand the market is more in tune with value for money than ever. Casual and accessible restaurants will continue to flourish. People want value for money and they don't want to be ripped off.
Q—Just finally Damien, there's with no shortage of excellent dining options in Sydney right now, what will be the keys to success?
A—Treating regulars like rockstars and rockstars like regulars. Good service is becoming an exception in restaurants, rather than the rule. Having a lack of quality staff off the back-end of COVID has certainly contributed to this, but owners of restaurants have to always remember the customer is only there because they want a good experience. The restaurants that survive will do so because they exceed expectations, time and time again, over a long period of time. Owner operators who are passionate and personable will flourish and casual and good-value dining will be key. It's not just about the food, it's the experience!
New Zealand-born. Australian adopted. Damien Monley has spent the bulk of his adult life pushing the boundaries of dining and hospitality and, today, is one of the region's most respected chefs and restauranteurs. After training under some of the world's great chefs, Damien rose to prominence in the mid-2000s as co-owner and head chef of Flat White Café on Holdsworth Street in Woollahra, where he remained for almost a decade. In 2015 Damien founded a new business venture, Think Tank Hospitality, which quickly built a reputation for creating unique and aspirational dining experiences. Part of this saw Damien's gaze turn to Bowral in the Southern Highlands of NSW where he opened the award-winning modern Australian restaurant, Grand Bistro, with his wife, Justine. In 2019, Damien seized the opportunity to take his considerable culinary talents even further afield, moving to London as Executive Chef & Co-Owner of the acclaimed LIV Restaurant in Belgravia. He returned to Sydney in early 2020.