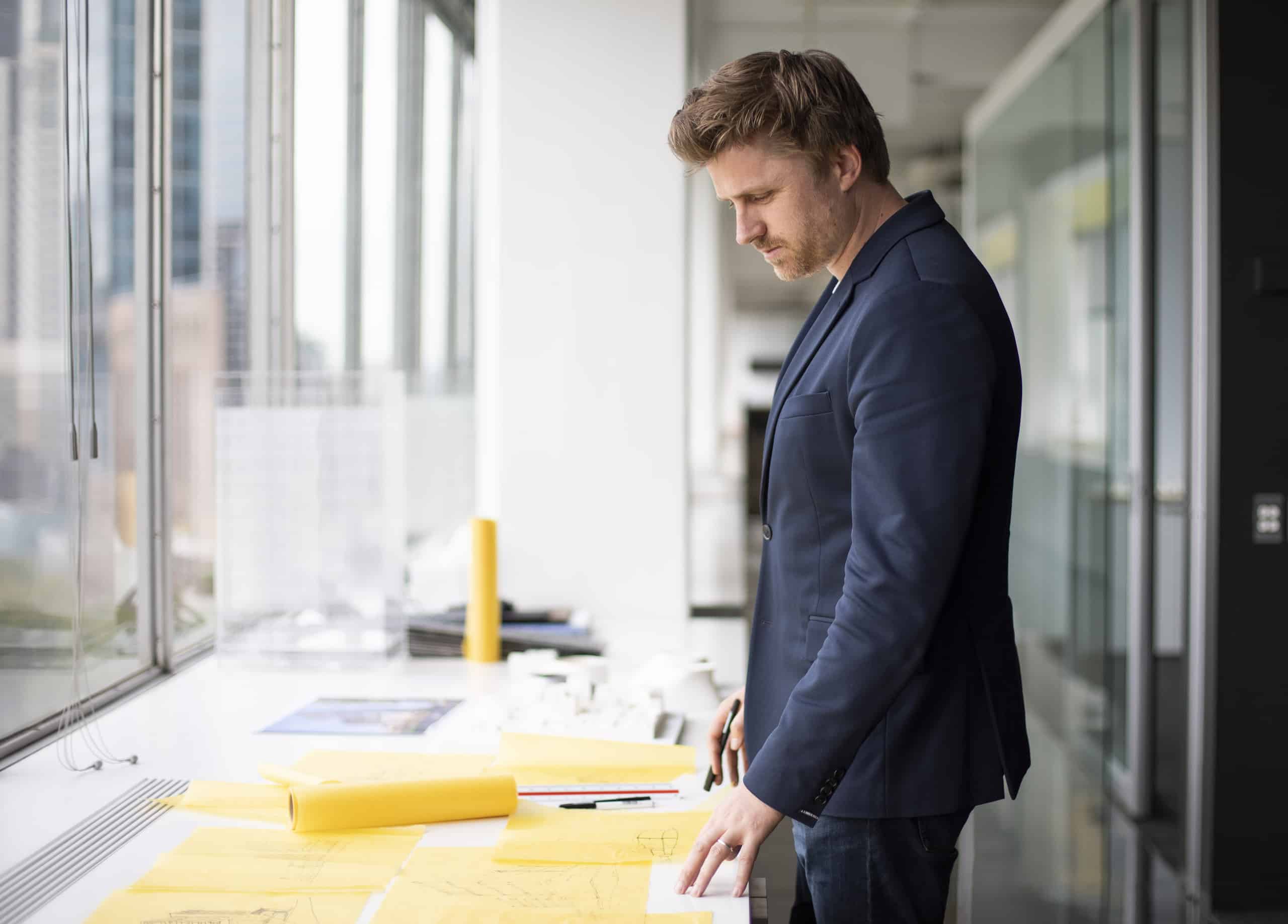 With origins that can be traced all the way back to 1853, Bates Smart is one of Australia's oldest and most respected design businesses. Their first Fortis collaboration, The Foundry, is currently underway at Clifton Hill just 4km from the heart of Melbourne. It's a landmark mixed-use project, blending over 30,000sqm of residential, commercial and casual dining spaces. We recently spoke with Bates Smart Director and lead architect on The Foundry, Cian Davis, to learn a little more about both their business and their design approach.
Q— Bates Smart is one of the most famous names in Australian architecture. Can you tell us a little about the business and its history?
A— Bates Smart is a multidisciplinary design firm with studios in Melbourne and Sydney. We deliver award-winning architecture, interior design, urban design and other strategic services that transform the way people use and inhabit urban spaces and built environments. Our history began in 1853 with an individual, Joseph Reed, and is continuing over 165 years later as Bates Smart. Our firm has been responsible for a diverse range of iconic projects that mirror Australian architectural history. This includes the Public Library of Victoria, The Royal Exhibition Building, Federation Square, the Royal Children's Hospital and the Australian Embassy in Washington DC.
Q— How would you describe the underlying philosophy of Bates Smart?
A— We create architecture which is designed to solve problems for people, to engage them intellectually and socially, and to live in sustainable harmony with nature. Our approach is not simply about making big gestures. We nurture and develop every size project and all its elements until the details complement and enhance the whole. As we move forward energetically, our studios embrace the challenge of each project, questioning assumptions and testing solutions until we find their bespoke optimal outcome. This approach delivers transformational buildings for all of our projects, large and small. They are affirming, uniquely conceived and beautiful.
Q— What are some of the industry trends you're noticing?
A— In commercial architecture, we're seeing a greater focus on the quality of space and amenity for the end-user with design-driven by the changing requirements and values of tenants and their staff, rather than the developer. We see this mirroring how a younger generation of employees is driving change in their workplace and broader society through an interest in environmental, social and ethical issues. When matched with technological innovations in how we work, the nature of the workplace environment is changing rapidly. This is an exciting opportunity for design innovation, a chance to rethink the types of office spaces we're creating and to design buildings that put the health, happiness and success of people first.
Q— What's the most important stage of a project?
A— Each stage is an opportunity to achieve the quality of work we strive for. Our ability to create enduring architecture depends on the same attention to detail during construction as during the initial concept design. But what matters most is the relationships we have with our clients, built on trust and understanding.
Q— Bates Smart and Fortis are currently creating a stunning mixed-use project at Clifton Hill, The Foundry. Why do you think our two businesses work so well together?
A— The design process for the Clifton Hill site has been one of shared energy, ambition and the open exchange of ideas. Fortis, and in particular Charles and David, have brought a great openness of mind to our design conversations. Ideas were tested and debated with energy and passion, always with an understanding that this project is the opportunity to do something different. I believe we developed a trust and understanding that allowed us to put forward design ideas that other clients may have felt too radical. The result is a project that we see as unique, not just in its architecture, but in its mix of uses and its true connection to context.
Q— What does success look like for you at the end of a project?
A— To be already working together on the next project. Our clients' success is our success.
Bates Smart is an award-winning Australian architecture and design firm. With a staff of over 250 people, they focus on the Sydney and Melbourne property markets. Follow the links to learn more about their first Fortis project, The Foundry at Clifton Hill.