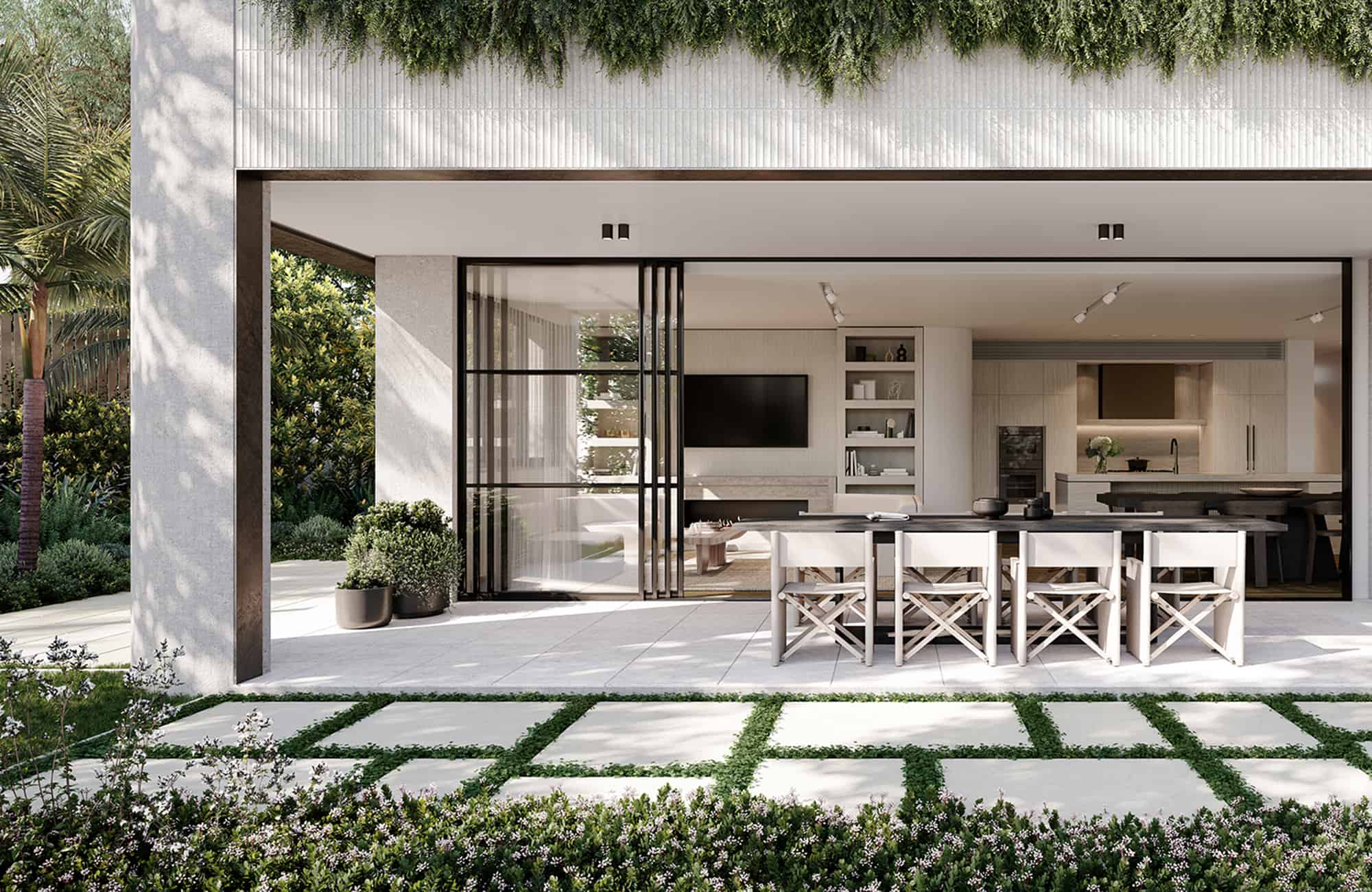 Over the past 18 months we have all had ample opportunity to explore the difference our home environment makes to our lives. Does our home deliver daily delight and sanctuary as we negotiate work, education and life within our four walls?
Our greatest lockdown luxuries have become abundant natural light and fresh air, pleasant outlooks and seamlessly integrated indoor/outdoor living.
At Fortis we understand this importance of connecting with our natural surrounds in ideal locations to enhance our daily lives. We also understand that our purchasers want to live in harmony with the environment they are enjoying. That's why each Fortis development is designed to suit its unique site and surroundings and to step lightly on the earth by reducing and reusing energy and resources wherever possible.
Beautiful natural surrounds.
Our starting point is to think about where and how our clients can live their best lives. We select sites endowed with natural advantages; outlooks, surrounds and location. Then we work closely with leading landscape architects with a deep understanding of our site's natural environs. We understand your natural living environment is vital to creating home and community; so we commit to delivering an enhanced landscape on completion and retain mature trees when possible. We focus on providing lush green outlooks to native, low-maintenance landscaping. Our architects select natural façade materials which we embellish and soften with planter boxes, wall climbers and mature trees.
Connecting your home to the outdoors.
We want you to enjoy the advantages of a prime location but to also feel part of your natural world with a seamless, integrated flow from open plan living to private outdoor space. Natural light, fresh air and relaxing outdoor spaces all contribute to our daily sense of wellbeing and enjoyment. To connect your home to the outdoors, our architects design floor-to-ceiling glazing to maximise natural light, outlooks and seamless connection to outdoor living. We use intelligent spatial design to optimise cross-flow ventilation and maximise "moments" to capture natural light and appreciate outlooks, perhaps an eastern corner aspect to enjoy a morning coffee. Our designers also carefully consider future furniture placement to enhance your living experience—so you can look out from bed to dappled sunlight and the tops of trees in the breeze. We link our elevated homes to the natural world by integrating planter boxes and green-roof features to visually erase divisions between home and nature.
Saving the earth and your pocket.
We actively minimise the carbon footprint of each of our Fortis projects to ensure it steps lightly on the earth and minimises your living costs. Our sustainability features often include passive solar design, natural ventilation, above standard insulation, double glazing, integrated gardens, energy and water efficient appliances, a 6-star energy rating, solar power for common areas and rainwater harvesting. Water sensitive urban design minimises stormwater runoff and rainwater is often harvested for toilet flushing, outdoor taps and integrated landscape irrigation. Integrated green-roof features for setback apartments provide garden outlooks, minimise UV reflection and increase urban biodiversity. We are also designing select buildings for operational carbon neutrality by eliminating fossil fuel use and committing to green electricity provision.
Your sustainability must-haves.
Our community of Fortis purchasers tell us that a big part of our success comes down to our ability to listen and learn from them. Working with our purchasers to discover their preferences, we have developed a list of preferred sustainable features that we strive to integrate into each of our projects:
—LED lighting and energy efficient appliances,
—automated sensor common area lighting,
—solar powered common areas and amenities – e.g. lighting, lifts and services plant;
—high performance glazing and bounding construction form thermal and acoustic comfort, and
—natural cross-ventilation for living areas and bedrooms and where possible for bathrooms.
At Fortis, we take pride in delivering residences that allow for a seamlessly integrated indoor/outdoor connection, in turn, enhancing the lives of our residents for many years to come. To discuss what residences we have available now, and in the future, please get in touch via our contact page.
Patrick Baldock
Associate Director