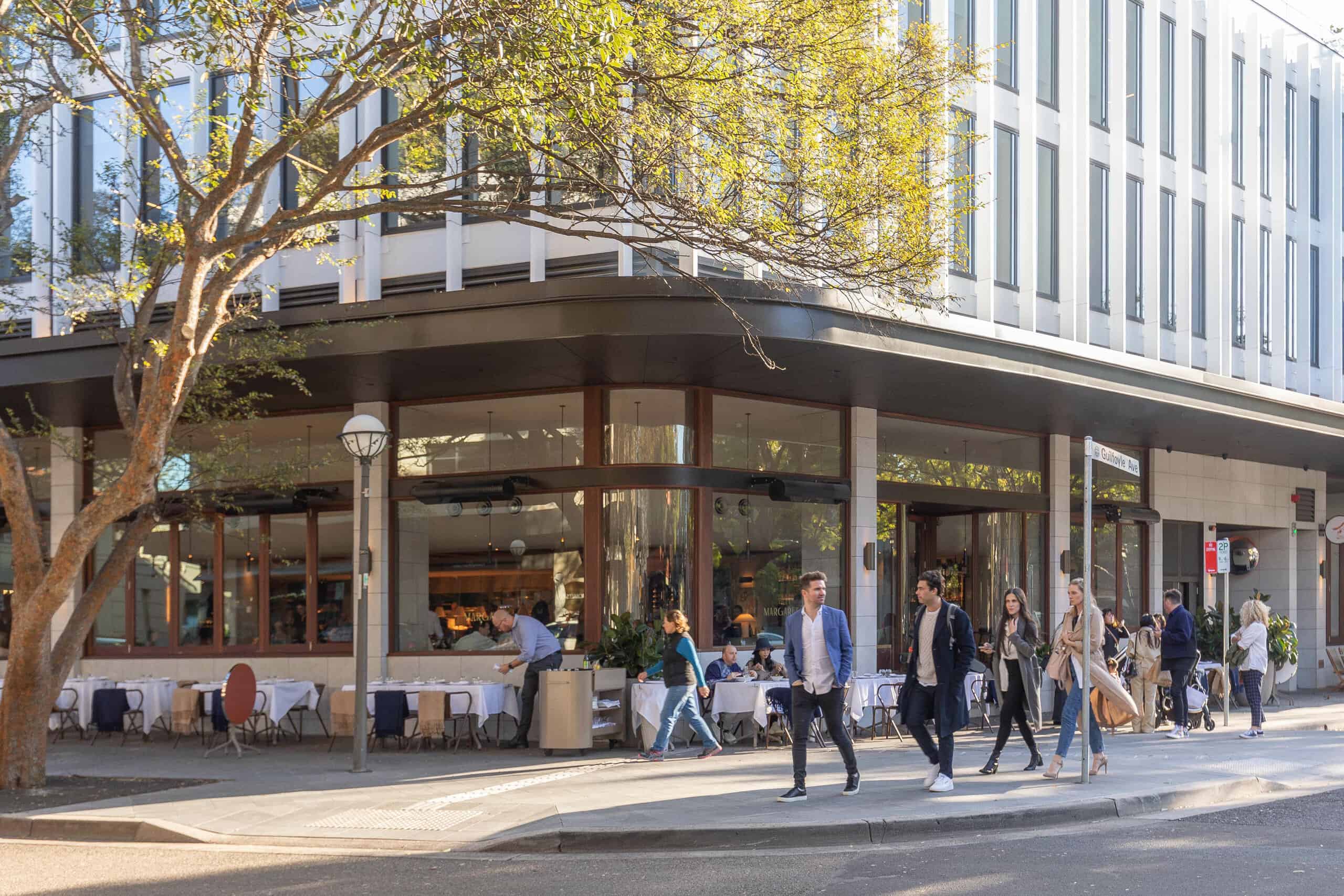 Many things stand out as you survey the Fortis portfolio here in Sydney. One of the more fundamental is our increasing presence in and around the harbourside village of Double Bay.
Our interest in Double Bay extends far beyond simply building premium-quality homes and commercial addresses. Scratch the surface and you'll find a deeper underlying strategy—driven by Fortis and shaped by our parent company, Pallas Group—that's highly ambitious, yet also very personal.
One of our Executive Directors, Charles Mellick, put it best when he explained: "Double Bay is a postcode that's always been close to our hearts. Many of us are Eastern Suburbs locals ourselves, and we care deeply for this historic part of our city. Rather than merely sit back, we're playing an active role in transforming this prized city-fringe location into the most sought-after neighbourhood in Sydney."
A cultural renaissance.
In the halcyon days of the 20th Century, Double Bay was renowned for its world-class boutiques, bars, hotels and dining. It was the place to be. Yet for some years this cultural lustre has been eroding, especially within the local retail landscape. Landowners have also been reluctant to upgrade the area's tiring commercial buildings, with many being repurposed as residential apartments.
But, in 2022, the green shoots of optimism are re-appearing. It only takes a quick stroll to see a renaissance is underway—and we're proud to be playing our part through a growing list of site acquisitions and developments, headlined by our own head office at Pallas House on leafy Bay Street.
As I write this, Fortis has six commercial projects either completed or under development in Double Bay. By 2024 they will be home to over 2,500 white-collar employees, enjoying the type of premium-quality offices previously only found in the CBD. This will significantly increase the area's commercial and economic footprint, stimulating jobs and expenditure every day (and, every night too).
The three Cs.
Fortis has considerable expertise in high-end residential development. But this isn't our priority in Double Bay. Rather, our focus is on Commercial, Community, and Culture-based projects that will re-energise the local community. For example, across all of our developments in Double Bay, we are very carefully curating the ground floor retail mix. It isn't simply about putting in 'more shops'. We're actively seeking to partner with Australia's finest food & beverage, fashion, and entertainment operators to ensure every Fortis property adds new layers of vibrance to the village community—365 days a year.
Plates and palettes.
Activating the Double Bay streetscape with indoor and outdoor dining is a really big part of our strategy. Why? Because food brings people together. There's no better example than Neil Perry's magnificent restaurant Margaret which opened in 2021. Located on the ground floor of Pallas House, it's been incredibly successful by combining high-quality food and service with a convenient high-end location. I'm excited to say it's only the beginning of what we have in store, too. Behind the scenes we've been working extensively with Neil Perry and others to hand-pick more operators from around Australia to offer their own amazing dining experiences within the Double Bay area.
The Fortis team is also busy planning a series of food and entertainment-based events in Double Bay to bring people together to savour all the great offerings of the surrounding local businesses. (Without giving too much away, the first event is planned for spring 2022.)
What's next?
As mentioned, we have some exciting projects currently underway. Another that's about to begin is the $350 million mixed-use redevelopment of the Cross Street Carpark. With a new public plaza, activated retail spaces, an arthouse cinema, commercial offices for over 300 workers and small number of exclusive residences overlooking the harbour, it's a landmark opportunity to reshape the culture and community of Double Bay for generations to come.
We're especially excited about the new cinema, as it will become a focal point for the local art and cultural scene. A place to gather and socialise, the vision for the cinema is more than just mainstream Hollywood blockbusters. Releases will include indie, local and international film festivals, encouraging a more diverse mix of local and visiting patrons to the village every day.
With so much going on right now, it's hard to fit everything into a single article. What I can say is these are very exciting times for the culture and community of Double Bay—and Fortis is thrilled to be part of it. Stay tuned.
Ed Eve
Associate Director