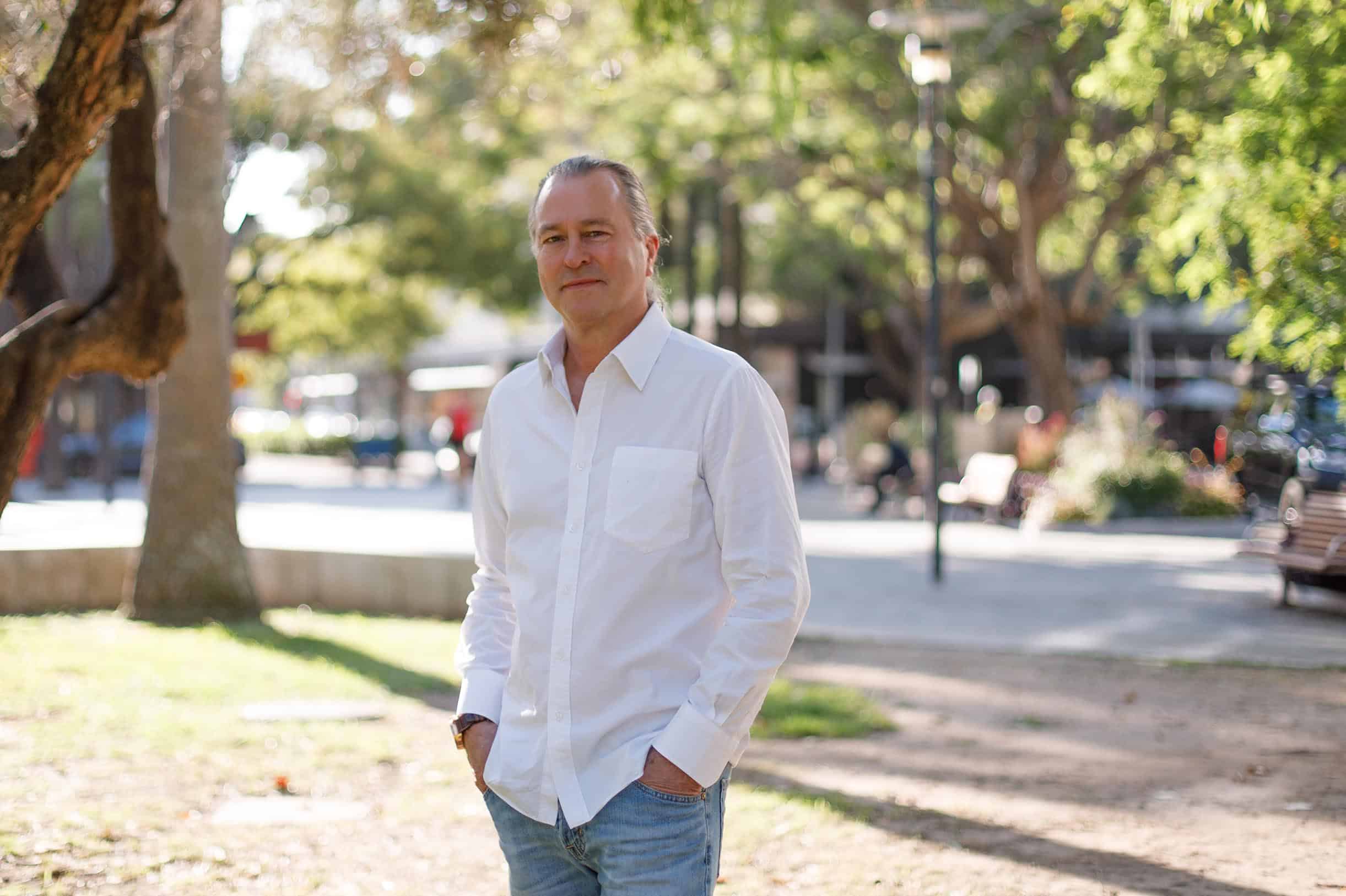 Following a $12 million upgrade, 2021 will see Fortis move into its breathtaking new Sydney headquarters in the heart of Double Bay village, Pallas House. Crowned by four premium-grade commercial levels on the corner of Bay and Guilfoyle streets, the elegant low-rise building will also become home to a boutique food and beverage precinct, signatured by a stunning 178-seat "neighbourhood restaurant" created by one of Australia's most revered culinary visionaries, Neil Perry. We recently caught up with Neil to discuss his ambitious plans for Sydney's newest must-visit dining destination, scheduled to open in mid-2021.
Q—Thank you so much for joining us Neil. Can you please tell us a little about your fantastic new dining concept at Pallas House?
A—Our plan is to create one of the world's best neighbourhood dining experiences. With great food, wine and drinks all being special, but also accessible so the restaurant can be used as a neighbourhood hangout or meeting point as often as you like and whatever you feel you want on that day. The key to that is having a food and drink offering that allows people between lunch and dinner to tailor the experience they want – a simple drink, a quick bite to eat at the bar or lunch, a quick dinner or a long celebratory occasion. By allowing our guests to drive the experience we firmly believe people will come to think of the restaurant as an extension of their home.
Q—How would you describe the underlying food philosophy?
A—Taking some of Australia's greatest produce, treating it simply, bringing out its best, with the woodfire grill and rotisserie playing centre stage to all the wonderful produce we will source. After 43 years of cooking, and having opened restaurants that have not only won acclaim in Australia but around the world and have grown into household names, I feel confident that settling into Double Bay to cook the food I love will bring a food experience people will really enjoy and want to come back for time and time again.
Q—What kind of experience can guests expect when they visit?
A—The fit out and décor will be simple, high quality and, most importantly, generous and comfortable. By bringing the team of Caon Studios and ACME together we're creating a unique design collaboration that's going to deliver what we feel is going to be one of the most beautiful local restaurants, not only in Sydney but one that will hold its own anywhere in the world. Although it will feel very effortless, every single part of the restaurant is well thought out and well resolved. From the power and strength of the open kitchen to the beautiful bar which will be home to some of the most classic cocktails, the space will feel understated yet incredibly sophisticated.
Q—Who is the restaurant aimed at?
A—All of the people who live and work in the Double Bay village and the greater local community. Whether you're after a simple drink or snack, a long lunch or fantastic dinner, all of these will be available daily. We feel the restaurant will deliver such a great experience that it will move beyond being 'local' and become a must-visit destination for tourists, both domestic and international, who love great food and most importantly love to travel for the best restaurant experiences.
Q—Location is so important. Why did you choose Pallas House in Double Bay? What makes the site stand out?
A—To my mind the corner of Bay and Guilfoyle is the perfect location in Double Bay. Bay Street is developing into a fantastic eat street for the Eastern Suburbs and Guilfoyle with the park creates a wonderful feeling of calmness that will draw people to sit and relax and enjoy what the restaurant offers. Double Bay is in quite a unique situation since Covid-19, which has really changed the way corporates think about the city. Pallas House is going to be home to some of Sydney's best and most dynamic small firms, thus adding to not only retail and residential in Double Bay, but also the all-important corporate element.
Q—Taking a broader look, how would you describe the fine dining landscape in Australia right now?
A—Quality dining in Australia is alive and well with lots of fantastic chefs and front of house people who are doing things at a very high level. This doesn't necessary mean expensive, it just means the craft and the focus is strongly on creating great guest experiences. We're also lucky to have a group of young people who are not only looking to create great restaurants but are looking at sustainability and what's good for now, but also the future.
Q—Just finally Neil, there's certainly no shortage of excellent dining options in Sydney's Inner and Eastern Suburbs right now. What will be the keys to success?
A—Great food, great drinks and great culture. These three things together will enable us to make sure we understand why we do what we do, which is to create great memories for our guests. If we're successful in doing this, we'll be successful in creating not just a restaurant in Double Bay, but indeed a Double Bay institution.
Neil Perry is one of Australia's most influential chefs and restaurateurs. Renowned the world over for his mastery of Modern Australian and Asian cuisine, Neil began his culinary career in the late 1970s, landing his first head chef role at Barrenjoey Restaurant at Palm Beach. 1986 saw Neil open his first restaurant, the Blue Water Grill in Bondi, before he went on to open the highly acclaimed Rockpool, The Rocks with his cousin Trish Richards in 1989 which went on to receive numerous awards and accolades. It remains the only restaurant in Australia to be ranked Number 4 in the World's 50 Best Restaurants and be continually recognised for 7 consecutive years. Rockpool has also won 5 Gourmet Traveller Restaurant of the Year and Chef of the Year awards, whilst continually receiving 3 Hats from the Good Food Guide Awards over the last 25 years.
Following the success of Rockpool, Neil opened acclaimed restaurants and brands including Rockpool Bar & Grill, Spice Temple, Rosetta, Bar Patron and Burger Project. Neil was made a Member of the Order of Australia in 2013 and has recently celebrated 25 years with Qantas as Creative Director of Food, Beverage and Service for the national airline.