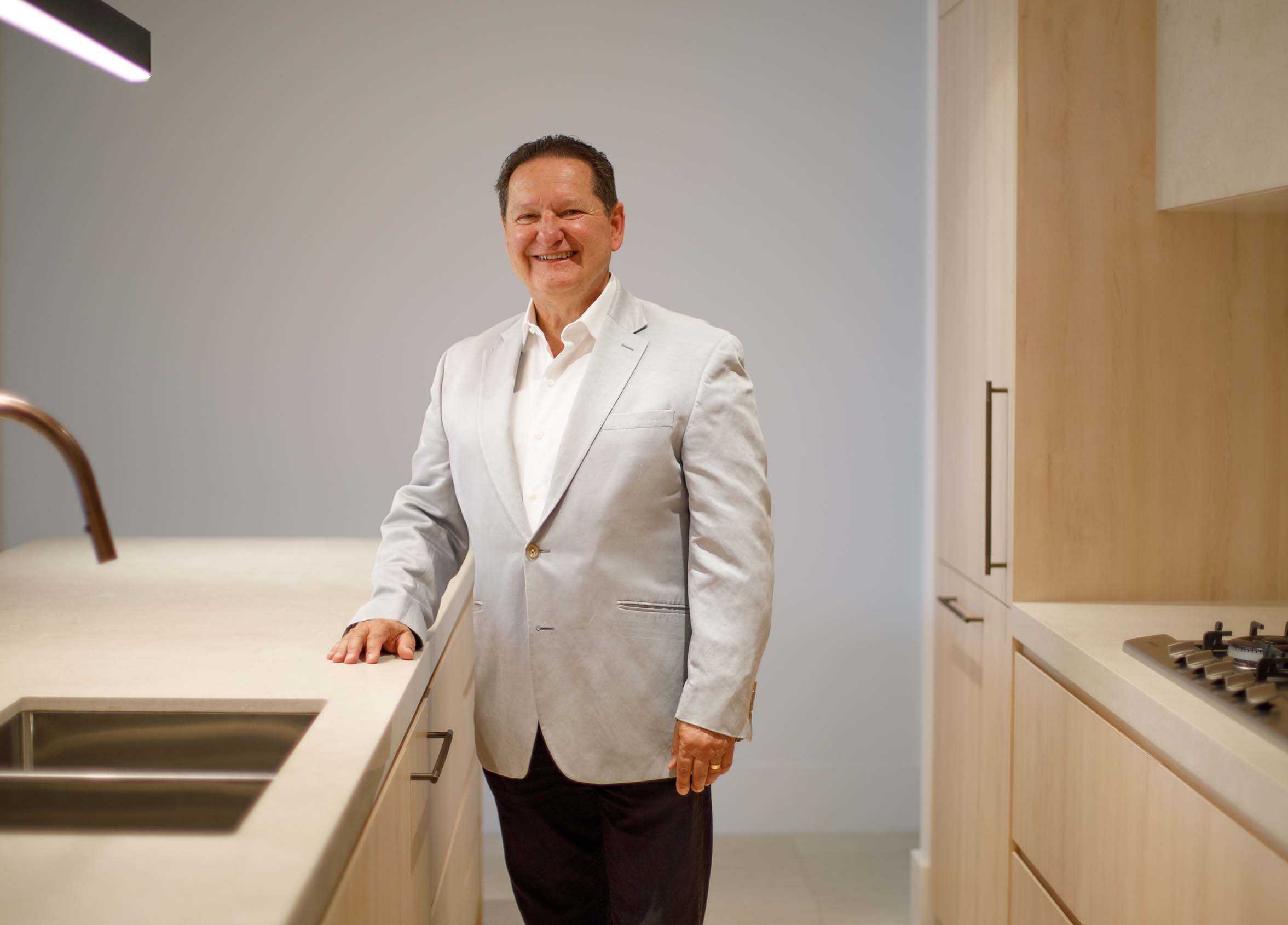 We've known him for many years, but our relationship with Michael Finger officially began in 2018 with our very first Sydney development, The Benson in Rose Bay. Highly respected and hugely experienced, Michael is a true veteran of the Eastern Suburbs property market. Together with his Sales Team at Ray White Double Bay, he's currently representing our latest Rose Bay project, No.1 Carlisle, where the luxurious full-floor penthouse recently sold within 3 hours of launch. We recently caught up with Michael to learn more about the continued success of Ray White Double Bay, which he co-founded more than 30 years ago.
Q—Michael, Ray White Double Bay continues to be one of the most respected real estate firms in the Eastern Suburbs. How did it all begin?
A—Ray White Double Bay was established 32 years ago. The three partners, including myself, had previously worked together for around 12 years in another real estate firm and we decided to go it alone. Over the years, the business has developed into a 'super office' with a billion-dollar plus turnover with property management and financial services being an integral part of that growth. Our sales team is now 30 plus in strength with a majority of our salespeople being recognised in the top 20 in Australia.
Q—How would you describe your underlying business philosophy?
A—Our passion has always been to create a harmonious team. That's been really paramount in the recruitment and maintaining of loyal, like-minded staff members. Another driving force of our vision is to help our staff members create a stable, sustainable lifestyle and educate them around building security and wealth, whilst still having fun. In principle, the mindset of creating a family-orientated culture has been one of the most outstanding considerations for our partnership.
Q—What property trends are you noticing at the moment?
A—Some of the most noticeable changes have been exacerbated and fuelled by COVID-19 and include the increase in virtual meetings, auctions and the presentation policies relating to open homes. Also, the overwhelming interest in upgrading one's home either by renovating or moving has intensified as a result of people not travelling as much, locally or overseas. The most noticeable trend has been the dramatic increase in movement up and down the coast and out of the city, as well as the increased purchasing of holiday homes.
Q—What's the most important stage of a sales campaign?
A—The preparation of the property and ensuring all aspects of the legal side are ticked off.  Contracts for sale must be complete in every way, especially at the moment as additional requirements need attention. Things like swimming pool certifications, covenants and easements need to be highlighted. When an off-the-plan development is involved, such as The Benson and No.1 Carlisle, you also need to provide full clarity around finishes and inclusions. The more detailed the information, the easier it makes the job of the agent to sell a brand-new product.
Q—At the end of a project, what does success look like?
A—Success is made up of multiple features. These start from presenting and providing a product as close to the original design renders and plans as possible, together with seamless sales process to ensure the incoming purchaser is satisfied and happy with the journey and their new home itself. An important aspect for both the Ray White team and Fortis is the ongoing legacy of a premium product and experience, one that is promoted organically—not only by the purchasers, but those who have inspected the plans or visited the exhibition unit throughout the program.
Q—Ray White Double Bay and Fortis have collaborated on some stunning projects. Why do you think we work so well together?
A—We've certainly benefited from having a past relationship with the Directors of Fortis. But more to the point, I think we've remained as exclusive agents for Fortis because of the synergy both teams have in wanting the best outcome in quality of product and service provided. Our ability to discuss intricacies relating to the developments and have healthy discussions around sales marketing and processing is made simple because of our like-minded relationship. It makes all the difference.
For over 30 years, Ray White Double Bay has been providing clients across Sydney's Eastern Suburbs with a comprehensive range of professional property services—from Prestige Sales, Project Marketing and Property Management, to Home Loans and Advice. What continues to set them apart is an unwavering commitment to ensuring each and every transaction is executed seamlessly and discreetly, no matter how big or small. Customer satisfaction is paramount, as is upholding their business cornerstones of Excellence, Integrity, Empathy and Family.