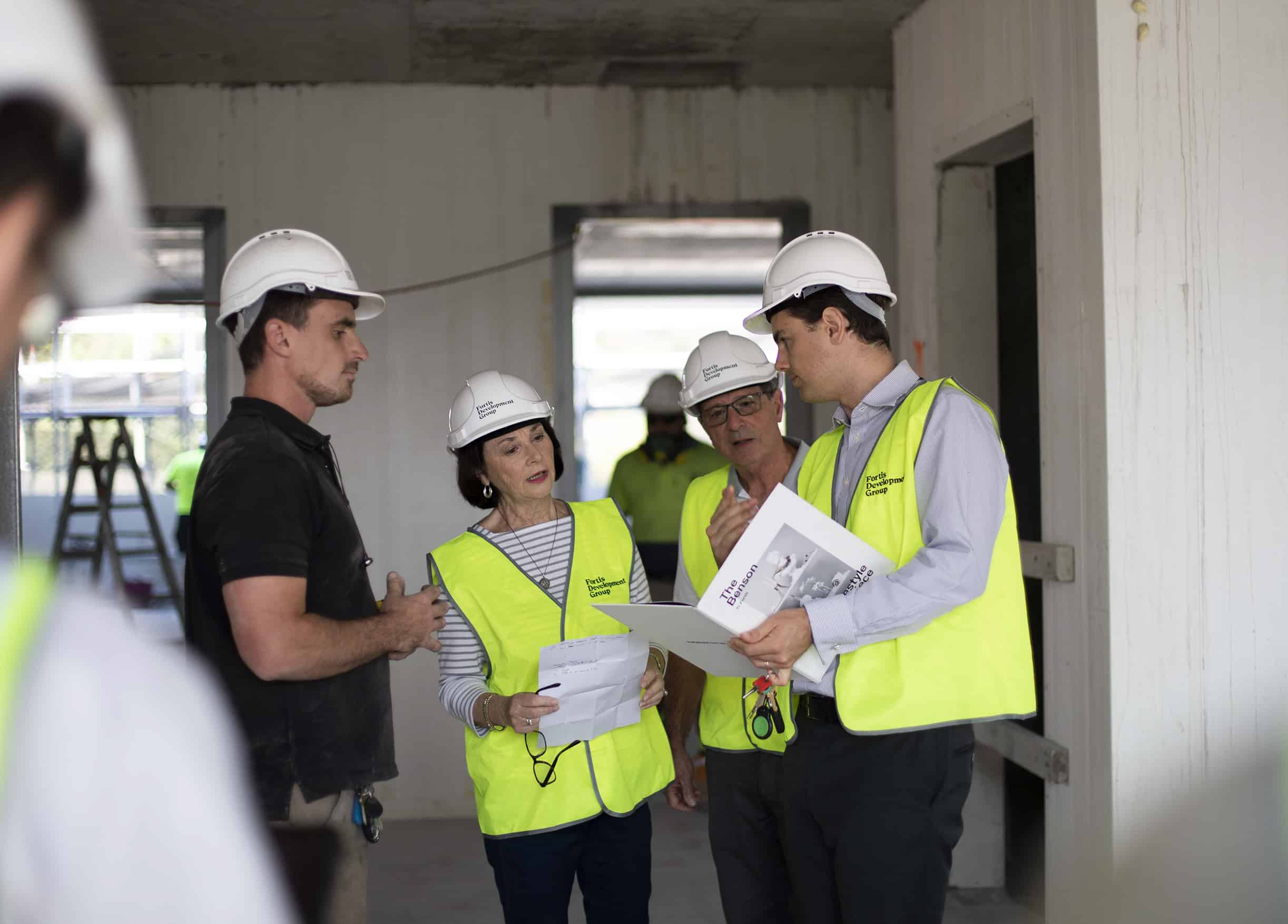 Whether you purchase before construction starts or wait until a development is fully complete, the timing of an off-the-plan purchase results in different kinds of benefits. Below is a summary of the specific perks of buying at three major phases.
Phase 1: Demolition & construction
Being underpinned by private equity and funding structures which do not rely on pre-sales, Fortis has a unique ability to commence construction much faster than other developers. Having said that, those who have registered their interest in one of our developments prior to construction commencing will always be given the opportunity to purchase.
The benefits of buying during this phase:
First pick: During this initial phase of off-the-plan sales, we typically see the most unique apartments sell out—the penthouse can often be snapped up on day one.
Full stamp duty savings: In Victoria, early buyers who meet the state government's requirements can benefit from enormous stamp duty concessions—this can be close to a $100,000 saving.
Capital growth: Sydney and Melbourne property markets are historically very strong in terms of capital growth. Purchasing an apartment off-the-plan pre-construction means you could enjoy 1-2 years of capital growth on your asset before you even settle and move in.
Major customisations: Want to double the size of your master bedroom and walk-in robe? Whilst our architects, interior designers and the team at Fortis deeply consider every square centimetre of each apartment, we certainly acknowledge that everyone has varied needs and wants. Since construction hasn't yet commenced, buyers can often make more major customisations to their chosen floor plan.
Phase 2: During construction
At Fortis, we pride ourselves on our attention to detail and personal approach to every stage of the development process. During the construction phase, both purchasers and enquirers of a particular development are kept informed in real-time of progress of our projects.
The benefits of buying during this phase:
Precision timing: At this stage of the project, we're able to give you very accurate timing for the anticipated project completion. That way you can accurately plan everything you need to do between signing on the dotted line and move-in day.
Partial stamp duty savings: In Victoria, you could also still be eligible for considerable stamp duty concessions. Concessions reduce in parallel with the advancement of construction—the more complete the building, the higher it is valued, and therefore the lower the stamp duty concession.
Minor customisations: Need a wine fridge in your walk-in pantry for all those delicious reds? Typically, when purchasing at this phase all the walls and services have been locked in with our builder, but we can still assist with smaller levels of customisation.
Phase 3: Nearing completion
By this stage, we've already locked in all details of the build, so customisations are generally not something we're able to accommodate. That said we'll definitely do everything we can to make sure you know exactly what you're getting so you can plan accordingly. You can always make minor tweaks after you move in—just make sure you speak to your new neighbours and strata manager.
The benefits of buying during this phase:
Prototype inspection: We always aim to complete one whole apartment about three months prior to completion. This prototype allows those with any reservations of buying off-the-plan to be able to touch and feel the quality of the final product, first hand.
We recognise that purchasing a new home, especially off-the-plan, can be a big decision. It's our job to make this easier for you so you can make a fully informed decision. Signing up to our mailing list is a great way to stay informed on our current and upcoming projects. Otherwise, just give us a call and we'll grab a coffee together.
Michael Clark
Senior Development Manager, Fortis