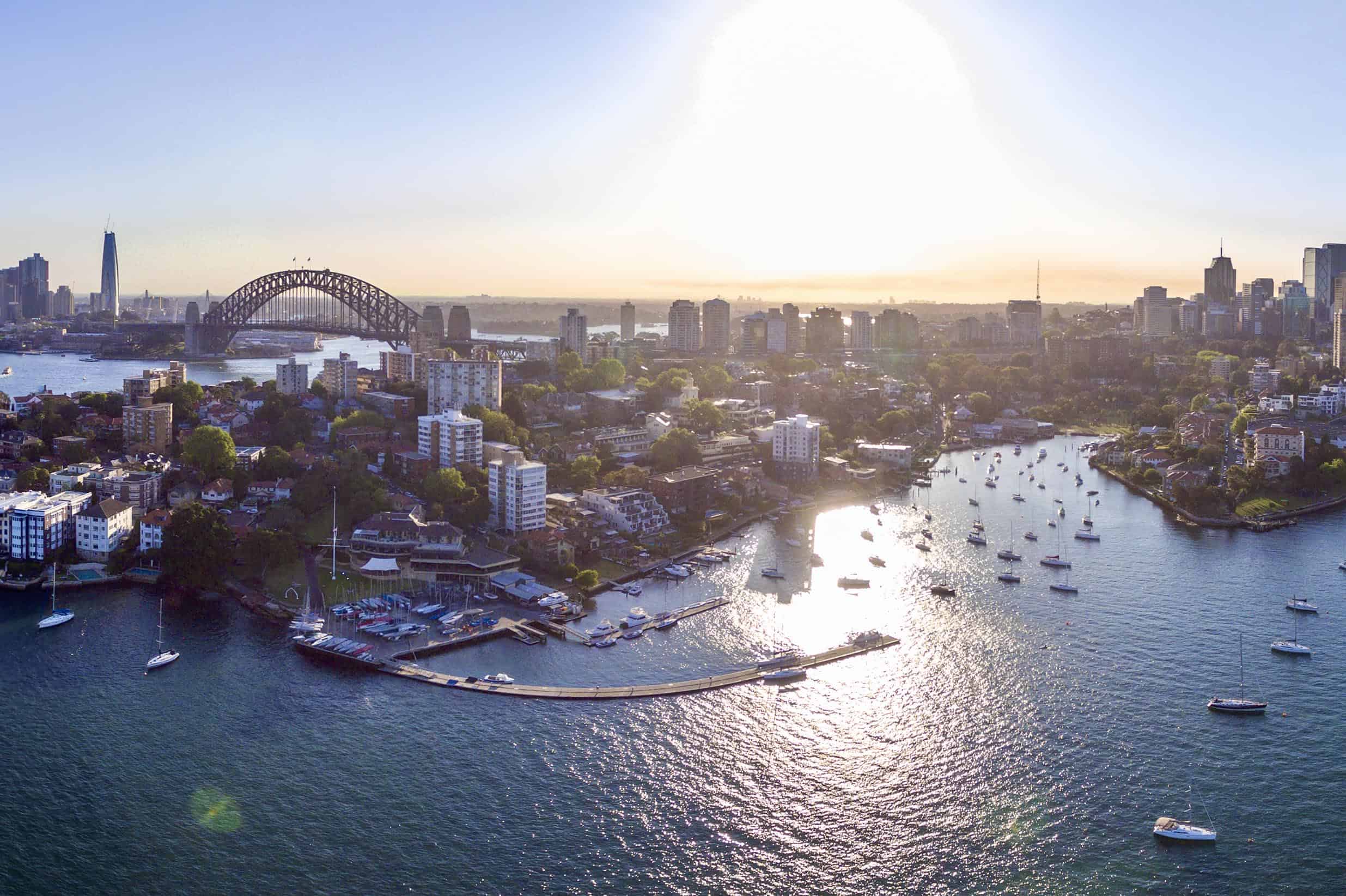 If the past 12 months have taught us anything, it's that predicting the future is rarely simple. Yet amongst the continuing twists and turns of the global pandemic, both economic and social, there are strong clues as to what may lay ahead for Australia's property industry.
To explore the possibilities, I reached out to some of our most trusted collaborators in Sydney and Melbourne to gauge their thoughts on the current state of the market. Their answers provide fascinating insights for 2021, and beyond.
"Over the last few years we've seen a shift away from CBD sites, with significant interest in periphery suburbs such as Richmond, Cremorne and Collingwood. This physical shift has also marked a fundamental transformation in the approach to workplace design with health, wellbeing and sustainability becoming a major focus.
Greener modes of transport are taking on increasing priority, driving a vast increase in the extent of bicycle parking and end-of-trip facilities provided. Connecting people to the natural environment through 'biophilic' design is also becoming more and more desirable, due to the wellbeing benefits and aesthetic qualities. For example, greening of spaces and the introduction of planting and vegetation, natural design references, and the nature and characteristics of spaces – prospect, refuge, sanctuary.
In parallel, we're seeing more 'homely' or 'domestic' qualities within the working environment. Spaces are becoming more residential-like and less sterile through the use of warm, natural materials, and a more crafted, often eclectic approach.
Finally, the concept of 'local narratives' is something we're seeing more of. Ensuring a workplace supports local traders, stitches seamlessly into its context and responds to the history of its locale, allows it to integrate in a far more nuanced and purposeful way with its surrounds."
Tristan Wong
Director, SJB Architects
"We believe there is significant pent-up demand in the downsizer market which is where we've traditionally produced many high-end projects in inner-city Melbourne. Stock levels of established homes over $3m in the inner ring have increased since Christmas which tells us people are looking to trade family homes and, in most instances, this directly correlates to demand for downsizer product.
We're also finding more and more purchasers are looking to customise their new apartments as they seek to create a home for the next phase of their lives. Further to this, we see a consistent demand for timeless interior design elements and features such as natural stone, chevron flooring and butler's pantries.
The prevalence of Covid-19 has also seen us reimagine interior spaces to create flexibility to accommodate work-from-home arrangements, which we're seeing correlates to an optimal apartment size in the vicinity of 125m². This size, relative to price point, allows the purchaser to exchange on their family home which in most instances is debt-free, leaving money in the bank to fund their next adventure."
Will Leaf
Managing Director, Ewert Leaf
"After 2020, a need for high quality amenity, finishes and living spaces in one's home will be the key driver in the decision-making framework for where people live and the acquisitions they make. The market will continue to drive forward in 2021, and our strong belief is the appetite for high end, high quality apartment living will continue to grow. Further to this, with limited supply, the value of the apartments will increase. This year will be a strong year in our market segment, and both Melbourne and the rest of Australia will come out of 2020 with strength into this year and beyond."
Rotem Rotenberg
Director, Cobild
Melbourne
"In a post-pandemic world, commercial tenants will be spoiled for choice for new or retrofitted offices. However, we continue to see a strong portion of tenants choosing quality over discounted rates. Due to the increased presence of flex-space, density within the workplace will continue to decrease as business owners continue to offer their staff more flexible working conditions.
What does this mean for 2021? There will continue to be strong demand from tenants for high-quality offices within highly serviced suburban precincts such as Double Bay and South Melbourne. Tenants will continue to move away from the CBDs towards precincts that offer easier accessibility, greater amenity and premium quality office buildings."
Matthew Barakat
Commercial Leasing & Acquisitions, Fortis
"During the past year, we've witnessed a dramatic shift in the way people use and experience their gardens. With more people socialising, relaxing and holidaying from home than ever before, homeowners are really looking to create their own private luxury retreats.
From a design perspective, we're receiving a lot of requests for practical and usable spaces as well as indoor/outdoor entertaining facilities and resort-like amenities. For smaller urban spaces, private outdoor space is increasingly valued, as is the simple and enduring pleasure of a green outlook. We can only see this trend increasing in 2021 and beyond."
Anthony Wyer
Director, Wyer & Co.
"The last 12 months have given us the time to consider what works or could work better within homes and apartments, especially with more people working from home. For example, young families and professionals can benefit from separate study areas which extend beyond simple media nooks to areas which enjoy their own privacy and amenity. At the same time, we know a greater focus on things like outlook, light, ventilation and a connection to landscape assists in providing a more balanced lifestyle.
Irrespective of the demographic, people are gaining a more acute understanding of the pragmatics of spatial planning, efficiency and furnishability. This, in turn, is pushing an even stronger focus on design quality, internal finishes and response to site/context.
We're also seeing a demand for well-considered communal open spaces, which provide options for both passive and recreation break-out areas. The notion of simply providing a BBQ within a left-over corner of awkwardly accessed green space simply doesn't suffice anymore.
PBD's ethos is focused around a balance between pragmatic efficient spatial planning and innovative architecture—a response which seeks an honestly in built-form and functionality of space."
Paul Buljevic
Director, PBD Architects
"2020 really highlighted the importance of the spaces we live in. The capacity for people to be able to 'live' without having to leave their boundaries could never have been clearer. Whilst the events of 2020 will no doubt pass, the awareness and uptake of the buyer market to developers who provide higher quality amenities has never been higher. People are learning that by investing in the apartments and the buildings they're part of, they're investing directly in the quality of their life.
The pandemic has also really accelerated the movement towards flexible working. With confidence in remote working at an all-time high, the opportunity for smaller spaces with higher level amenity presents itself. The savings associated with doing this provides an opportunity for organisations to invest more in the quality of their spaces and specifications; investing in higher quality collaborative spaces which promote and encourage people together, premium IT and conferencing systems, and gym and end-of-trip facilities which promote the ability of teams to have healthier work lifestyles. The line between work and home life continues to blur."
Jad Maroun
Founder & Director, Lords Group
"In the Eastern Suburbs, the first half of the year will reflect the final months of 2020 with very strong enquiry due to the lack of stock currently available, especially in the residential luxury apartment market.
Recent results have shown homes in the heartland of Sydney's east are exceeding expectations at auction, anywhere from 10% to 30%. This is absolutely contradictory to the wider conditions we're experiencing with Covid-19. Why? I think it's the realisation that staying at home and having a comfortable property to live in has become paramount, far more important than travelling overseas.
With interest in coastal properties and luxury apartments increasing exponentially, the current developments under construction in the Eastern Suburbs are extremely timely. Many investors are also sitting on a large amount of cash from the sale of their businesses or interests in tech companies that have been flourishing over the last two years. Again, money will flow into real estate with a long-term view in mind. So, if you want to take advantage of the current market conditions, the next six months will be the time to make the move."
Michael Finger
Founder & Sales Executive, Ray White Double Bay
"The emergence of Covid-19 saw large sections of the Sydney and Melbourne residential property markets enter a holding pattern. In the early stages, uncertainty around economic forecasts and future recoveries meant large financial decisions, such as buying residential property, were simply deferred.
After a year of very limited spending opportunity and proportionate saving, the back end of 2020 proved to be a positive step for sectors of the Sydney and Melbourne residential markets, particularly the inner-city luxury market. Covid-19 has uncovered the wider realisation that quality product in established, inner-city village locales and well considered spaces do provide the quality of life at home which we all desire.
My feeling is 2021 will see a very strong Q1, Q2 and beyond, particularly residential property in established inner-city villages. Pent up demand, historically low interest rates and a market unwilling to compromise on quality and amenity will be the strongest factors."
Patrick Baldock
Associate Director, Fortis
2021 will see Fortis release a series of high-profile, high-quality residential and commercial developments in both Sydney and Melbourne. To stay up-to-date with the opportunities available, please get in touch via our contact page here, or email me directly jess@fortis.com.au
Jessica Garcia
Marketing & Relationship Manager