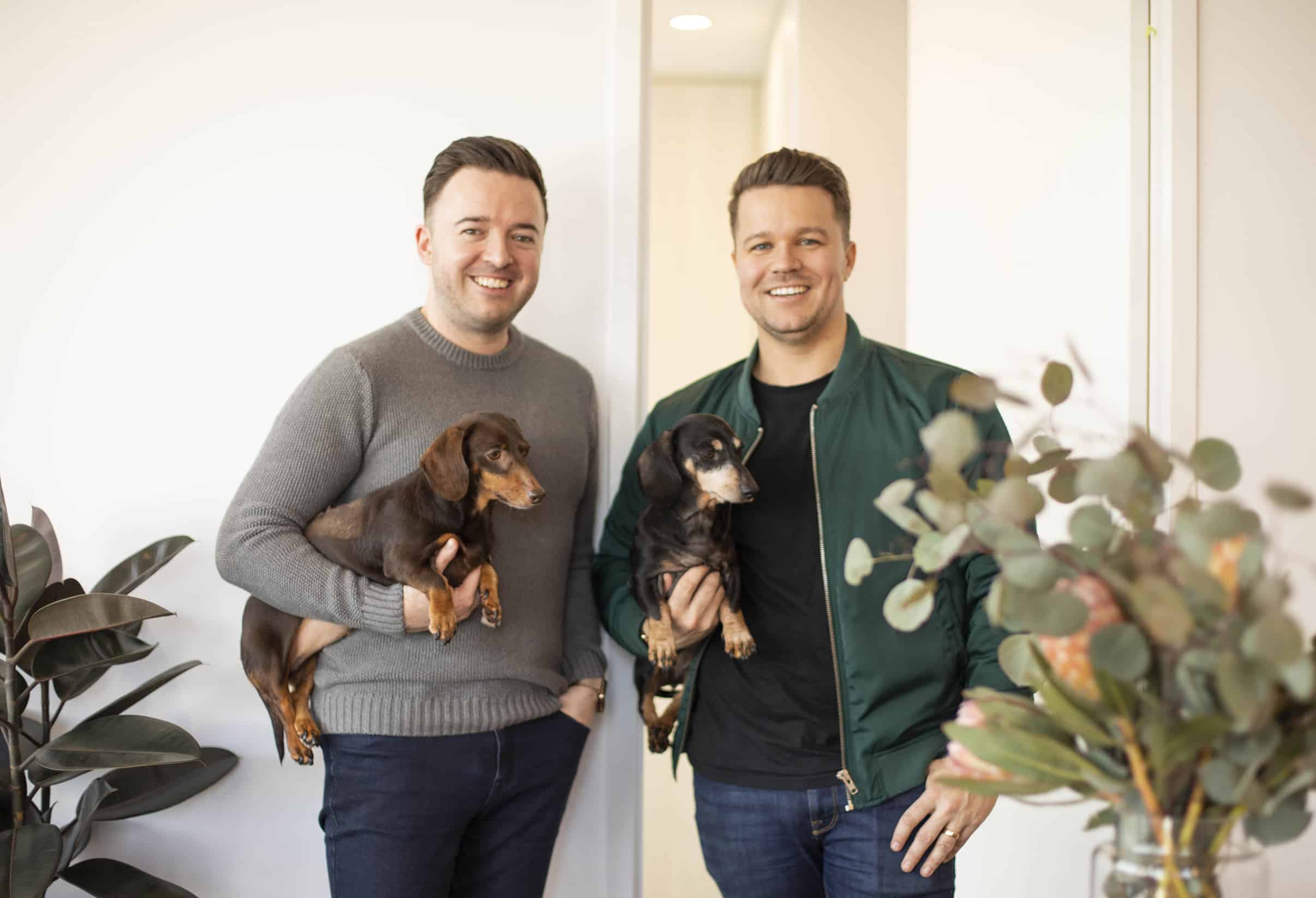 We visited Brad and Brendan a few days after they'd moved into their new (and impressively styled!) East Grove home, to ask them a few questions on their Fortis experience.
Q—Why did you choose to buy off-the-plan, compared to an existing property?
A—We had previously purchased an apartment off-the-plan, so we had no hesitation in doing so again and knew what to expect. There is something nice about moving into a home that no one else has lived in before. It is fresh, modern and there are no renovations to do. It also means that the design aesthetic is current and on-trend.
Buying off-the-plan also allowed us to make some adjustments and customisations to make the home just right for when we moved in. We flipped the wardrobe around in the master bedroom giving us a more open space, and we removed the fixed marble dining table in the kitchen that has allowed us to have our own dining table. This flexibility has been so great and comforting, knowing that our new home was going to be perfect for us.
Q—What do you think East Grove has, that other property options you looked at didn't?
A—East Grove has the luxury items that were on our wishlist—marble benchtops, a freestanding bath, dual vanity in the ensuite, and sizeable wrap-around balcony. Other developments lacked these, or were compromised in size or quality in some ways. East Grove also had the best exterior look and street appeal compared to others.
Q—How would you describe our apartments?
A—From what we've found at East Grove and seen throughout Fortis' other developments, their apartments are consistently finished to a very high standard, feature luxurious fittings and materials, and have well-considered floorplans and living spaces. There are points of difference such as chevron-pattern timber flooring as opposed to the standard straight-laid, textured terrazzo tiling in bathrooms as opposed to flat colour tiles, brushed iron bronze tapware instead of the usual chrome or matte black and using pendants and strip-lighting as a way of creating ambience and warmth in the home.
Q—How would you describe Fortis?
A—A developer that feels a lot more approachable and customer-orientated than others that we have dealt with, and with their projects being of a smaller, boutique nature, you get the sense that they have time to carefully consider your queries or concerns. This also comes through in the regular and comprehensive updates on construction progress, with photos and percentage-complete charts to let you know where things are at. Overall we received the impression that Fortis don't settle for second-best when it comes to choosing their locations, materials and specifications.
Q—How would you describe your level of expectation of Fortis and East Grove, compared to what was delivered?
A—Looking at the way Fortis marketed themselves and the high quality of their previous developments, we had quite a high expectation of the experience we would receive throughout the build process, to the finished product and post-settlement. We certainly weren't disappointed by any of this. Fortis has exceeded our expectations with the quality of finishes throughout the apartment – including all the joinery, skirting boards, timber flooring, marble benches, and other quality fittings. Even our friends who work in the industry, have commented on how 'high-spec' the apartment is, more than they were expecting.
Q—Do you have anything else that you'd like to add?
A—The level of customer service and personalised contact from both the sales and development teams has been outstanding, from the sales experience, through the build process to settlement and move-in. We also experienced some difficulties as a result of the impact the COVID-19 crisis had on our incomes right around the time of settlement, and Fortis was absolutely incredible in the compassion and flexibility extended to us during this time. They really did ensure that our new home experience was a successful and enjoyable one.